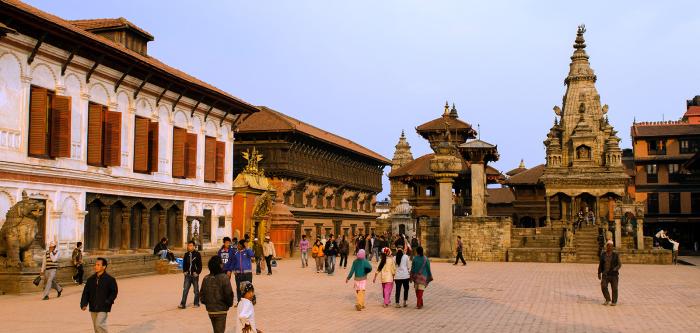 Located just a stone's throw away from the UNESCO enlisted Bhaktapur Durbar Square and yet just a few minutes away from the airport, THAGU CHHEN is an ideal base from which guests can explore Bhaktapur's infinite charms. It provides a lifetime experience of staying in a traditional house with facilities befitting Western comfort standards, whether you are looking for temporary or long term accommodation. The spacious rooms, the traditional décor and the warm and inviting ambience make it a perfect holiday retreat for short term guests. For the working expat community, it provides luxurious serviced apartments, tucked away in a tranquil setting.
In traditional local Newa Bhaye or Newa dialect, "THAGU" means "Thy own" and "CHHEN" means "Home". So, THAGU CHHEN means "Thy own home" in Newa Bhaye. Moreover, "Atithi Devo Bhavah" meaning "The guest is God" is a part of the code of conduct of our Hindu Society. So, at THAGU CHHEN, emphasis is given on a level of personalized service and attention to detail that is par excellence.
THAGU CHHEN is built with reclaimed handmade bricks and incorporating original woodworks that are centuries old. Each nook and corner of the apartment suites is filled with artefacts made using local craftsmanship and using local materials that support local industry and employment.
At THAGU CHHEN, you can enjoy being in the proximity of Bhaktapur's finest attractions. You could go shopping and strolling around the alleys, wander around the temples and scrutinize their architectural details, and observe age-old traditions of craftsmanship– pottery, woodcarving, bronze-casting and weaving , just to name a few of the activities that are available to you in the immediate vicinity. Taking into consideration the comfortable amenities available within and the cultural capital of the Bhaktapur Durbar Square nearby, THAGU CHHEN offers our guests a resort like ambience par excellence.